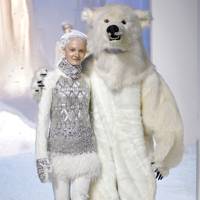 FRENCH outerwear mark Moncler is setting out toward an IPO finally, as it affirmed intends to list around 25 percent of its offers, between the finish of the year and mid 2014. The brand's first sale of stock was first mooted in 2011 and again in June this year, yet neither emerged. The skiwear mark plans to take advantage of rising deals that have multiplied its incentive in the previous two years to about €2 billion (£1.7 billion), sources near the arrangement told Reuters. Set up in an Alpine town close Grenoble in 1952 by French business visionary René Ramillon, Moncler was sold to Italian businessperson Remo Ruffini, the present president and inventive executive of the organization.
The IPO will raise 585 million euros to 681 million euros and a so-called greenshoe option for underwriters may increase the size of the offering by 15 percent, according to terms of the deal. The stock will be priced between 8.75 euros and 10.20 euros, Moncler said in a statement late yesterday. Moncler is seeking to repeat the IPO success of Cucinelli, the maker of $3,195 cashmere cardigans, and Salvatore Ferragamo SpA, which sells $675 patent-leather platform heels. Shares in both companies have about tripled since they were listed in Milan in 2012 and 2011, respectively, encouraging Moncler's owners to make a second attempt at an IPO in as many years.
Read More :  The Ultimate Puffer Jacket for Every Wardrobe
The skiwear maker aborted plans to list in 2011 in favor of a sale to French private-equity firm Eurazeo SA. Eurazeo, the owner of a 45 percent stake, will sell 14 percent in the IPO, the terms show. Carlyle Group Inc., which owns 18 percent, will sell half its holding.